Map
---
The main view. (you can back up to this view from the others)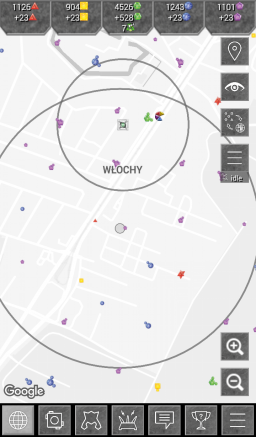 Crystal storage (top of the screen)
It displays the total amount of crystal you have in storage.
After the "+" sign it displays the amount of crystals your workers have harvested so far. This is the amount you can get if you recall all the workers of that color.
Information about idle workers is shown on some views here as well.
Map buttons (right side of the screen)
Bottom buttons (bottom side of the screen)
Fountains
See Fountain.
This is where you gather Crystal.
Workers
On the fountains you see placed workers, yours and others. Only workers of the correct color may be placed on them.
See Worker on how to produce, place and modify workers.
Portals
Allows you to remotely place workers.
See Portal
Treasures

See Treasure for information about them